M-256 is rightly called a workhorse of disinfectants. Its broad-spectrum antimicrobial activity, low microbial resistance, excellent safety profile, and low corrosiveness make it perfect for use on various surfaces.
M-256 belongs to a class of disinfectants called QUATS (Quaternary Ammonium Compounds). It belongs to its latest generation, a combination of two proven and potent disinfectants: Didecyl dimethyl ammonium chloride (DDAC) and n-alkyl dimethyl benzyl ammonium chloride.
QUATS have a long history of use as surface sanitizer disinfectants, meaning there is enough reason to trust them. They were discovered in the early twentieth century, and since then, they have evolved a lot. And now they are in their fifth generation.
Fifth-generation QUATS like M-256 gained greater popularity in recent years due to their ability to neutralize Covid-19 and other strains of coronavirus in a very short time. However, it is worth knowing that M-256 is for disinfecting inert surfaces and not for sanitizing hands or internal use.
M-256, how it fits into the definition of ideal surface disinfectant?
Although there is no ideal surface disinfectant. Nonetheless, M-256 may be very close to the definition of ideal surface disinfectant:
Broad-spectrum of activity: It means activity against the most common and life-threatening pathogens, whether bacteria, yeast, or viruses. It is effective against most pathogenic bacteria, including MRSA, VRE (Vancomycin-Resistant Enterococci), and much more. It has excellent antifungal activity working against Candida, Aspergillus, and much more. It can help neutralize common viruses like influenza, HIV, herpes, coronavirus, rotavirus, adenovirus, and many more.
Fast-acting: It is true that for reliable and complete sterilization, the recommended time is 10-hours so that to neutralize uncommon pathogens or microbes resistant to early-generation QUATS. However, for most commonly found bacteria, yeasts, and viruses, it is pretty fast and starts acting within few minutes. Therefore, for reliable sterilization in hospital conditions, one would still require 10 hours. However, much smaller time intervals would suffice for non-critical disinfection of specific areas like floors at homes, shops, counters, and so on. (refer to product label for more details).
Low toxicity: Here, it is worth noticing that it has low toxicity as a surface disinfectant. M-256 is not for internal use or sanitizing human hands or mucus membranes. However, when used as indicated, it is highly safe. It is aerobically biodegradable (degrades in the environment on prolonged exposure to the air).
Good surface compatibility: meaning a wide range of uses. It is non-corrosive for most instruments (however, it should not be used for sensitive devices like endoscopes), various surfaces, or areas, as it is non-corrosive and non-sticky. Thus, it is better than high concentration alcohol-based or highly corrosive chlorine-based disinfectants. It is also good in the way that it is quite easy to rinse, unlike many phenol-based compounds.
Ease of use: This means that there are minimal steps involved in starting using, particularly with clear instructions. M-256 is a concentrated disinfectant that is ready to use after dilution. For most less critical disinfection of surfaces like washing floors, 4 ml of it in a 1 liter of cold water is enough (1:256 ratio, and thus its name M-256). However, for instruments, disinfection of more critical things, sterilization, fogging, different concentrations are needed, and one should refer product label.
Odor: generally, the best surface disinfectants have a minimal specific odor, thus not causing much discomfort on regular use. Moreover, QUATS can help overcome certain smells by killing microorganisms causing them. Although the fragrance of certain QUATS may be enhanced by adding scents, that may limit its use in many cases. M-256, unlike some similar products, is free from scents like mint or so on to ensure as neutral odor as possible.
Economical: QUATS are especially preferred for low-level disinfection like that of floors, tiles, large surfaces due to their high-cost effectiveness. For most such purposes mixing one part of it in 256 parts of cold water would create quite an effective surface disinfectant.
Solubility and stability: It is readily soluble in the water and remains stable for months in a tightly closed container.
Additionally, it has some cleaning properties. When used properly, it is safe for the environment, as it degrades in the environment.
How does M256 work as surface disinfectant?
Like all other QUATS, it is cationic. Therefore, it quickly binds to the negatively charged cell membrane of microbes, causing its breakage and killing the microbe.
It is especially good for neutralizing a wide variety of microbes that pose health threats daily, from bacteria, fungi to viruses. Since it is pretty safe to use, it is not only for use in hospital settings but is also suitable for everyday use in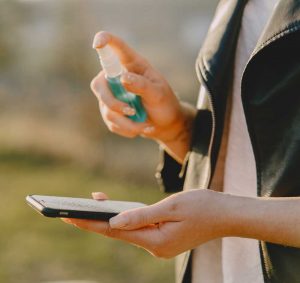 schools, homes, hotels, and other similar places.
One of the frequent questions could be how frequently to use it? Well, it is fit for daily use. In some instances, one may even use it multiple times a day. For example, it may be used more frequently to sterilize surfaces that are more likely to h
ave high and frequent exposure to microbes like doorknobs, countertops, cellphones and so on.
Can one use it to kill molds and other fungi?
Some warm and moist places are especially prone to the growth of molds and fungi on walls, ceilings, and various other surfaces. Since QUATS are effective antifungals, it means that they are quite suitable for disinfecting, cleaning such surfaces, and their frequent use would ensure that surfaces remain free from any such growths.
Is M-256 safe for frequently disinfecting surfaces?
M-256 is absolutely safe for frequent or regular use when used as instructed. It is just vital to keep in mind that it is a surface sanitizer disinfectant. Therefore, when using, certain safety precautions must be used, like wearing protective gloves.
If it comes in contact with the skin in diluted form, it does not have severe effects. However, if one spills it over the skin in its concentrated form, one should immediately rinse that part of the body for 10-15 under running water. Similarly, if it comes in contact with the eyes, they must be washed with water immediately.
For severe exposures like high-dose inhalation or accidental ingestion may require medical attention. Its ingestion may cause toxicity but is rarely life-threatening until or unless intentionally ingested in large amounts.